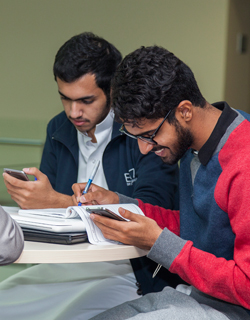 Alfaisal has many scholarship programs available to students that are Merit-based (excellence in academic performance) and Financial need-based. The following outlines the scholarship opportunities available to new students applying to Alfaisal, please note that scholarships are yearly based and being awarded by the beginning of each academic year.
At Alfaisal University scholarships are an essential part of recruiting and supporting our finest students. We believe in supporting these students so they can focus and excel in their studies and research as this is vital to the success of both the students and the university.
Alfaisal has developed a comprehensive system of scholarships that will provide the opportunity for qualified students regardless of economic situation to attend the university, develop into world-class scholars and researchers, and significantly contribute to the well-being future of kingdom of Saudi Arabia and the region.
Scholarship Types
Office of Scholarships and Financial Assistance
Alfaisal University
P.O. Box 50927
Riyadh 11533
Kingdom of Saudi Arabia
Tel: 920 000570 (Local)
Tel: +(966) 11 215 7777 (International)
E-Mail Us