Welcome to University Counseling and Skills Development Unit
The Counseling and Skills Development Unit (CSDU) is committed to promote a welcoming atmosphere at Alfaisal University which is conducive to the student's well-being, personal growth, and psychological health. The CSDU offers workshops and awareness that help students overcome self-development obstacles and promote capabilities. Student Affairs counselors are available to assist the students with any difficulties.
The CSDU Services promotes student success through:
Academic Skills Development: Academic counseling and learning assistance.
Counseling: Individual and group counseling.
Training: Personal development and academic workshops.
Our services address a wide range of issues impacting student success, including:
Goal setting and stress management.
Personal development and building self-confidence.
Overcoming addictions and bad habits by guiding individuals to get help from outside sources such as Naga organization program for quitting smoking.
Learning and academic skills challenges.
Choosing a degree bath and career uncertainty.
Mental health and life concerns.
Faculty/staff-student communication.
---
Counseling
One-on-One counseling
there are many great things about college life. But college life can also include many challenges, such as:
Low academic performance.
Heath issues.
Relationship Problems.
Financial Pressures.
Conflict with Parents.
Depression.
Anxiety.
Individual counseling provides an opportunity to talk with an objective, caring professional person about your concerns or problems. Concerns discussed range widely, but might include feelings of low self-esteem, anxiety, depression, academic concerns, substance use, issues with friends and family, or relationship concerns.

Group Counseling
Group counseling provides a way to share difficulties, learn new strategies, practice new behaviors, and get feedback in a safe, supportive environment.
Counseling related to low academic performances
Most students find the academic demands of the University challenging–even students who have excellent high school grades. We help students bring their academic abilities up to a University level of competence.

Students with less serious academic skills concerns may be looking for help around basic study skill improvement in areas such study better for tests, or manage time more effectively. The counselor will help you:
Increase motivation to complete academic work
Improve time management skills
Managing test anxiety
Strengthening test preparation strategies
Decreasing procrastination
Better note-taking skills
Counseling related to health and disability issues

The Counseling and Skills Development Unit (CSDU) supports the mission of Alfaisal University by providing services that afford students with disabilities/ special needs and an equal opportunity to achieve their personal academic goals while maintain the integrity of Alfaisal academic program requirements.

CSDU offers practical assistance and advice to students with a permanent or temporary disability or medical condition or mental or psychological disorder. If students are experiencing difficulties with their studies due to the effects of their disability they can register with the CSDU. Students must provide appropriate documentation and may be eligible for a range of support and assistance.

The CSDU office collaborates with students, faculty and staff to create a welcoming campus that meets the needs of students with disabilities, fosters student independence, and recognizes students on the basis of their abilities rather than their disabilities.

Eligibility for these services is determined individually by the CSDU office based on documented need. Students are encouraged to register with CSDU as soon as possible after admission to the university to ensure timely provision of services.
---
CareerExplorer Assessment
If you have any doubt about your major (if it is right for you or not) or you would like to get a report about your Strengths and Personal Style.

The Counseling Unit provides the CareerExplorer assessment for Alfaisal student (Free). CareerExplorer is an online assessment that will take 30 minutes to do, and it will generate immediately a report that shows many useful information:.
What does the report show?
Your characteristics that make you unique compared to everyone else.
Your top careers.
Your top degrees.
Your Trait Report.
Your Personality Report.
You can start any time:
---
Training
The CSDU provides workshops and presentations in the areas that will help students to overcome their limits and unleash their potential.
Personal Development Workshops
Essential time management training to help organize your daily tasks and reduce stress. Learn effective time management skills to manage time more efficiently, including how to plan activities and get tasks done in a smarter manner, both at the university and at home.
Stress Management
This workshop is based on both mindfulness and cognitive/behavioral therapy. During the mindfulness exercises you practice to focus your attention. This will help you to be aware of what is going on in each moment and to relax obsessive thinking.
Strategies for Effective Communication
The course provides communication skills training for students wishing to develop their interpersonal skills and build rapport with others using body and verbal language. The training covers effective communication strategies to enhance understanding and verbal communication with others.
Study Skills and Note Taking
Study Skills Workshops are designed to improve your learning skills and help you achieve your academic goals. Good notes contribute to your overall success as a student. This workshop presents strategies for taking notes during lectures and while reading that will result in clear, concise, and meaningful notes which you can use for review and for research purposes.
Mind Mapping
These mapping techniques are used all over the world by students, teachers, researchers and in business as a way of improving learning and increasing creativity. They can be used to: organize the content and ideas in your thesis, structure a paper or report you need to write, prepare your lecture or presentation, or record brainstorming sessions. They are effective, easy to use and most of all FUN. In this workshop you will learn by doing. You will see how a idea map is created and then create your own using your own topic.
Managing Anxiety
This workshop will be informed by Cognitive Behavioral Therapy. It will help you understand what anxiety is and why we experience unpleasant physiological sensations. We will consider what some of the causes are and what factors can keep anxiety going. Finally we will explore a range of simple techniques aimed at helping you to manage anxiety and panic and thereby reduce the distress it causes.
---
Book an Appointment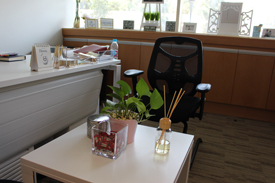 For further information kindly contact our counselors:


Male counselor\ Dr.Homoud Alabri
Phone :011-215 7847
Female counselor\ Wafa Alotaibi
Phone :011-215 7942

How to book an appointment
---