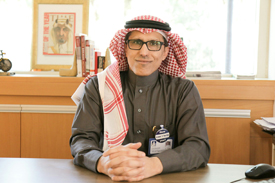 Welcome to University Counseling and Skills Development Unit
The Counseling and Skills Development Unit (CSDU) is committed to promote a welcoming atmosphere at Alfaisal University which is conducive to the student's well-being, personal growth, and psychological health. The CSDU offers workshops and awareness that help students overcome self-development obstacles and promote capabilities. Student Affairs counselors are available to assist the students with any difficulties.
The CSDU Services promotes student success through:
Academic Skills Development: Academic counseling and learning assistance.
Counseling: Individual and group counseling.
Training: Personal development and academic workshops.
Our services address a wide range of issues impacting student success, including:
Goal setting and stress management.
Personal development and building self-confidence.
Overcoming addictions and bad habits by guiding individuals to get help from outside sources such as Naga organization program for quitting smoking.
Learning and academic skills challenges.
Choosing a degree bath and career uncertainty.
Mental health and life concerns.
Faculty/staff-student communication.
---
Counseling
One-on-One counseling
there are many great things about college life. But college life can also include many challenges, such as:
Low academic performance.
Heath issues.
Relationship Problems.
Financial Pressures.
Conflict with Parents.
Depression.
Anxiety.
Individual counseling provides an opportunity to talk with an objective, caring professional person about your concerns or problems. Concerns discussed range widely, but might include feelings of low self-esteem, anxiety, depression, academic concerns, substance use, issues with friends and family, or relationship concerns.

Group Counseling
Group counseling provides a way to share difficulties, learn new strategies, practice new behaviors, and get feedback in a safe, supportive environment.
Counseling related to low academic performances
Most students find the academic demands of the University challenging–even students who have excellent high school grades. We help students bring their academic abilities up to a University level of competence.

Students with less serious academic skills concerns may be looking for help around basic study skill improvement in areas such study better for tests, or manage time more effectively. The counselor will help you:
Increase motivation to complete academic work
Improve time management skills
Managing test anxiety
Strengthening test preparation strategies
Decreasing procrastination
Better note-taking skills
Counseling related to health and disability issues

The Counseling and Skills Development Unit (CSDU) supports the mission of Alfaisal University by providing services that afford students with disabilities/ special needs and an equal opportunity to achieve their personal academic goals while maintain the integrity of Alfaisal academic program requirements.

CSDU offers practical assistance and advice to students with a permanent or temporary disability or medical condition or mental or psychological disorder. If students are experiencing difficulties with their studies due to the effects of their disability they can register with the CSDU. Students must provide appropriate documentation and may be eligible for a range of support and assistance.

The CSDU office collaborates with students, faculty and staff to create a welcoming campus that meets the needs of students with disabilities, fosters student independence, and recognizes students on the basis of their abilities rather than their disabilities.

Eligibility for these services is determined individually by the CSDU office based on documented need. Students are encouraged to register with CSDU as soon as possible after admission to the university to ensure timely provision of services.
---
Birkman Personality Assessment
This service is a personality assessment tool that will help you understand yourself more and give you tips that will guide you to develop your personality to a superior level. The report that is provided by this assessment will show you your personality strengths and weaknesses and the career that best fit your personality.

When you take the Brikman assessment it will provide you with a report regarding to aspects of your personality in the following subjects:
Usual Behavior – effective behavioral styles for tasks and relationships.
Underlying Needs – internal perceptions and expectations for how tasks and relationships should be governed.
Stress Behavior – ineffective behavioral styles when Needs go unmet.
Interests – vocational and avocational preferences. Occupational – the best jobs that suit your personality and you will enjoy.
Management Styles - approach to managing tasks and people.
Work Environment - the work environment that brings the best support and fit.
Birkman Personality Assessment is:
Online 298 questions (250 true-false, 48 multi-choice) 1 hour (average time to complete)

If you would like to take the Birkman Personality Assessment, please send ticket to the counselor through student's support system.
---
Training
The CSDU provides workshops and presentations in the areas that will help students to overcome their limits and unleash their potential.
Personal Development Workshops
Time Management
Stress Management
Strategies for Effective Communication
Academic Success Workshops
Study Skills and Note Taking
Mind Mapping
Managing Anxiety
---
Book an Appointment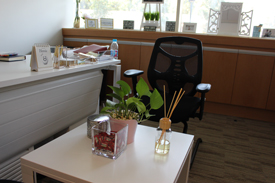 For further information kindly contact our counselors:


Male counselor\ Mr.Homoud Alabri
Phone :011-2157847
Female counselor\ Ms.Atheer Alhulwah
Phone :011-2157825


---