Registration Department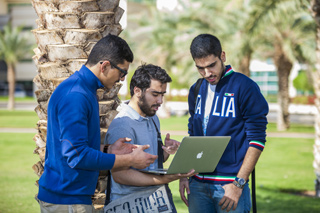 Welcome to Alfaisal University Registration Department. The registration process is the main pillar where every student should go through during his academic life in order to complete perfectly all supposed courses as stated in the academic plan of chosen college.
New students
New students should get acquainted with the courses of their colleges depending on the field of study so that their choice of courses for each semester be in their best interest and as harmonious as possible with student's capabilities. Registration Department takes the responsibility of registering fresh, newly accepted students for the first semester. After that, students can modify their schedules (add or drop) as they see fit in a certain timeframe.
Other students in all levels
Other students in all levels will take the responsibility of registering themselves in the chosen courses at the beginning of each semester and during a specified time. To make students able of registering themselves independently, they will be given access to an electronic channel called Net Classroom. Students will find choices which enable each one of them to conduct completely the registration process as he/she desires.
Transferring students
Transferring students who get accepted in the University will be treated specially, in which, their previous courses will be evaluated by assigned college(s). Credit transfer will be granted to approve courses and student will be assisted to register in next courses at Alfaisal. Also, students who take courses in summer semester (after taking approvals from the Dean of Admission & Registration) will have their courses credited (if they maintain proper GPA in each course) and will be assisted to register in the following courses.
A student should be familiar with the registration policies and guidelines (Can be found in detail in the Student Handbook). Understanding fully all registration aspects will definitely help avoiding any mistakes or confusing which might cause aggravating results.
For Registration dates and timelines regularly each semester, you can Click Here
Registration Staff will make sure that all current students are registered appropriately as per regulations and policies. Students from the other hand should communicate with designated Staff when facing any problem or confusion for the aim of perfecting the registration of the semester and/or seek help in regard of registration.
Registration Staff Contact Information
Alfaisal University
P.O. Box 50927
Riyadh 11533
Kingdom of Saudi Arabia
Tel: 920 000570 (Local)
Tel: +(966) 11 215 7777 (International)
E-Mail Us
Office Location
Students Center
Ground Floor
Student Affairs Department