Alfaisal University Enrichment Programs

Alfaisal University Enrichment Programs are offered year-round to help high school students widen their knowledge and explore their interests in different scientific fields,and modern-day and interpersonal skills! Join us for an opportunity to grow in a professional, interactive and supportive environment.

Date: 3rd Jan– 14th Jan 2021 (Mid-year break)
Location: Virtual


Five different online programs
Aspiring Physicians
MobiSiTech
Entrepreneurship and Project Management (E&PM)
Math SAT Preparation
IELTS Intensive Course
For any inquiries please contact
Alfaisal University Enrichment Programs
Come and join us online!
---
1. Aspiring Physicians
Date:
3
rd
-14
th
Jan 2021
Time:
12:30 – 5 pm, Sunday – Thursday
Fees:
1600 SAR
The Aspiring Physicians is a 2-week course designed to give high school students a glimpse into the medical field and what it entails. The students will be introduced to the daily medical language and the different sciences included such as anatomy, physiology, histology, biochemistry and microbiology and public health. Students will be involved in thought-provoking problem-based learning where clinical cases are presented and discussed in an environment that stimulates critical thinking and enforces teamwork skills.
---
2. MobiSiTech
Date:
3
rd
-14
th
Jan 2021
Time:
1 – 4 pm, Sunday – Thursday
Fees:
1200 SAR
MobiSiTech is a 2-week program that introduces mobile, web and gaming development at a high-level manner. Students will be able to implement mobile applications and websites that can serve in various real-life sectors (e.g. educational, business, entertainment, and gaming ...etc). The main purpose of this program is teaching high school students the basics of programming in a fun and interactive environment to encourage them to convert any idea into a real-world application and serve their community using trendy technologies. It's also designed to give a realistic overview of Software Engineer student's life. Moreover, the students get introduced to many discussions during the course time to help sharpen their knowledge into the technology sector. To achieve the success factors expected of this program, the students will be encouraged to participate in many fun competitions to learn necessary teamwork skills.
---
3. Entrepreneurship and Project Management (E&PM)
Date:
3
rd
-14
th
Jan 2021
Time:
1 – 4 pm, Sunday – Thursday
Fees:
1200 SAR
E&PM is a 2-week program that offers exclusive intensive Entrepreneurship and Project Management enrichment for high school students. The first week of the program, Innovation Challenge is an idea generation program designed to engage students in creating viable innovative concepts that solve real world challenges. By participating in ideation activities students become more proficient in recognizing start-up business opportunities, and the program offers a unique chance to support and showcase their student-led innovation ideas. Week two of the program, Project Management Skills for life, provides an understanding of project management concepts, explains how a project manager and team can effectively define a project, organize the work, create a plan, and work the plan to a successful conclusion. As a project manager, you will start to develop skills necessary to lead and manage successful initiatives. By practicing the project management simulations and other activities, you will determine strategies that will guide throughout your entrepreneurship challenges successfully.
---
4. Math SAT Preparation
Date:
3
rd
-14
th
Jan 2021
Time:
1–3 pm, Sunday – Thursday
Fees:
2400 SAR
The Math SAT Prep. Program is a 2-week course that will go through the topics and mathematical contents which comprise the SAT Math Test through two phases. In the first phase, students review Algebra: Straight lines, Functions and their Graphs, Circles, Complex numbers, Percentages and Ratios, Geometry: Circles, Polygons, Probability and Statistics, Trigonometry. Whereas in the second phase the course will concentrate on practicing college board real SAT Math. tests to develop test-taking and time management skills.
Resources Needed
-SAT Premium Prep 2021 (The Princeton Review) , ISBN: 9780525569343 (*Required)
Available At Jarir Bookstore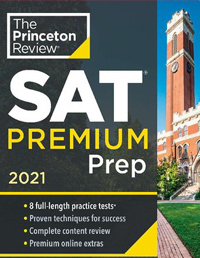 - Official SAT '
Khan Academy
: Unit: SAT Math
(Optional)
- SAT Math Practice:
College Board
(Optional)
---
5. IELTS Intensive Course
Date:
3
rd
-14
th
Jan 2021
Time:
12:30 – 2 pm, Sunday – Wednesday
Fees:
800 SAR
The IELTS Crash Course has been designed for students who wish to improve their English testing achievement both generally and for academic purposes. This course uses an interactive and collaborative methodology in order for students to improve their ability to effectively communicate and participate in lectures and tutorials. This is done through instruction in the four language skills: listening, reading, writing, and speaking. Furthermore, this course focuses on building test strategy skills so that students may develop their ability to understand questions and construct responses, as well as build their confidence in doing so. The tips and techniques presented will equip students to succeed academically and in their future professional life. IELTS Preparation is designed for high school students who may soon consider being examination takers in a high-stakes test of English which assesses all English proficiency levels. We will look at the parts of the test, both receptive and both productive skills. Comparison and contrast of each skill is carried out in order to help with a clear understanding of each part of the test.
Resources Needed

Brook-Hart G (2012). Complete IELTS Bands 5-6.5 Student's Book with Answers with CD-ROM 1st Edition. Cambridge English, UK; 1st Edition. ISBN-13 : 978-0521179485​ (*Required)
Available At Jarir Bookstore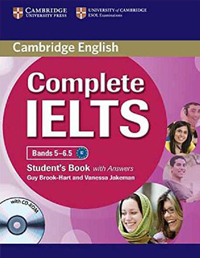 ---
Terms & Conditions
No refund requests will be accepted after registration.
Registration emails should contain the students full name as they are not subject to change
Transfers made without submitting an online application will not be accepted nor refunded
Students must abide by Alfaisal University Students Handbook